Investing in myself
Posted at 6:34pm on 19th January 2020
6 things I learned from going on a meditation retreat
When we think about investing we tend to think of ways we can make our money grow. However, as you probably know by now I think of investing and the returns you get with regards to investing in myself and others as well as physical assets. When you invest in yourself you might see your cash deplete in the short term, but in the long term you gain all sorts of additional returns. This may be in the form of greater knowledge, character development and even spiritual growth. I recently watched the Netflix series 'Inside Bill's Brain: Decoding Bill Gates'. The show follows the journey of the billionaire Microsoft founder and his various philanthropic activities. One aspect I found quite interesting was his 'Think Week'. He would take a week, twice a year to escape to a secret cabin in a forest. During this time he would ponder the future of technology and think of new ideas for his company whilst reading lots of books – away from the distractions and noise of everyday work. 
This month I took some time to have a retreat of my own. I went to Finland and stayed in a secluded cabin in the middle of a forest by a frozen lake. I wanted to devote some time to reading without the noise of everyday life and develop some new ideas for my future. It's probably important to note at this point the difference between this kind of retreat and a holiday. We all love a good holiday – frolicking on the beach, catching up with friends/family and lazing about with the main returns being provided in the form of a tan and fun memories. However, I wanted some time to focus within myself and meditate. I told my partner and he bought me Rick Warren's 'The Purpose Driven Life' (great book, definitely recommend) to read alongside my 'Bible in a Year' challenge on the YouVersion bible app. It was so liberating to take time to pray for clearer direction in my life goals and I can say that the retreat was definitely insightful. Here are six things I learned/gained from going on a meditation retreat: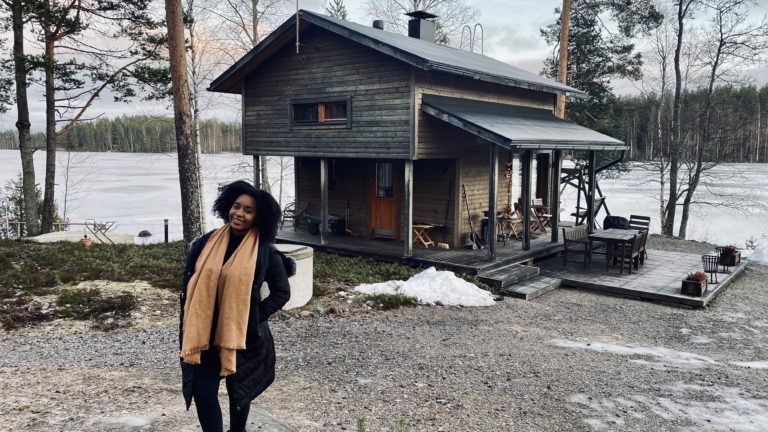 A renewed appreciation for nature: The cabin was right at the edge of a massive lake in the forest. Temperatures were below freezing and so the lake had become a massive plain of ice. It was beautiful to see the boughs of trees on the banks arching over into the frozen water, captured for the winter season. The orange and purple hues of the sun set reflecting against the icy surface was awe-inspiring. I think being exposed to the natural world helps you relax and gives you a revived sense of appreciation for how amazing nature really is (after I had gotten over my fear of falling through the surface of the ice).


The joy of silence: Because it was such a remote location there was genuine silence – all the time. I live on a main road so I am used to hearing the odd car rumble by. I also live with my family so I can normally hear my dad yelling at my brother for leaving the iron on (yet again), my brother watching TV shows in his room and my mum sharing the latest gist on the phone. But this was probably the first time that I could literally hear nothing but the wind. It was so peaceful and really helped me focus on my reading and meditation. With our hectic lives it is not very often that we get that chance to just sit still and reflect, free of any noise.


(Re)discovered my purpose – I want everything I do to align with God's will for my life and so for me personally it was important to pray about significant life decisions. I had so many new ideas come to me and I think it is useful to read a book like 'The Purpose Driven Life' (even if you're not a Christian) because it helps you to refocus and rediscover what is really important to you. 


Unplugging and eliminating distractions: I am blessed to have friends and family that check in on me from time to time. It was my birthday while I was on the retreat and it was lovely waking up to such beautiful messages from everyone. However, it was also lovely to just step away from my phone for a while and not feel any pressure to check emails or respond to requests. Also using my time to do something productive for large chunks of time instead of mindlessly scrolling through my Instagram feed was insightful. I love social media and I think it can be used for excellent things, but it's good to have balance and step away from it every once in a while.


Accelerate growth – This kind of touches on the previous point, but when you are reading/meditating and can only do so for short periods of time it can be hard to create a solid foundation. I tend to find that once I have built up some momentum because I have a large block of time in which to do it, then the opportunities for growth come and I can see bigger steps of progress being made.


Created a platform for lasting change – After a retreat you genuinely come home feeling refreshed and ready to implement changes into your everyday working life. 
Various experts have spoken of the benefits of having a 'third space' – somewhere that isn't work or home where you can spend time to think about strategy and longer-term goals. For some of us it may be a library or a coffee shop in a different part of town, but I encourage you – wherever it may be – to invest that time in yourself to reflect in that third space, develop your ideas and strategies and see what benefits you gain from it.