Four reasons we should all have a roboadvisor
Posted at 6:36pm on 5th April 2020
A lazy/busy person's best friend.
I've had lots of people ask me questions about getting a stocks and shares ISA (Individual Savings Account) to invest their money. It may be because the tax year is ending and we have until midnight on April 5th to take full advantage of the annual tax free £20k allowance. It may also be because we are all bored sat at home self-isolating with nothing else to do.
A stocks and shares ISA is a way of investing in the stock market, as well as other financial products such as bonds, without paying tax. Over the long run, a stocks and shares ISA could save you a lot of money in tax, since the dividend allowance has been reduced to £2,000 per year and the annual capital gains tax allowance (tax on money you make when you sell shares) of £12,000 may not stretch that far over the long run.
Stocks and shares ISAs are relatively low cost and easy to open (generally you only need to have your national insurance number and bank details to hand) although charges vary by provider, so it is worth doing your research on where to open one. Whilst a stocks and shares ISA is a bit more high risk than a cash ISA, you can be rewarded with better returns in the long run.
So where should you put your money?
There are three broad categories for providers when it comes to setting up a stocks and shares ISA:
Do it yourself (choosing investments yourself – requires time to research)
Do it with me (the provider offers a specific list of investments for you to choose from)
Do it for me (you state your goals and the provider chooses where to invest on your behalf – AKA a roboadvisor).
The first thing I do before I put my money anywhere is to check whether a company is FSCS covered. The Financial Services Compensation Scheme basically ensures that your money (up to £85k) is covered by the government in the event that a provider you use goes bust.
An easy analogy for opening a stocks and shares ISA is clothing stores. We all buy clothes, and there are literally hundreds of thousands of shops where you can go to buy them. In the same way, there are hundreds of providers that offer a way of investing your money. In each store you can buy different items of clothing – jackets, shoes etc and in the same way on each investment platform you can buy different investments – bonds, shares, funds. Now, you can think of a roboadvisor as a stylist who you tell your general style to. They then go and choose whatever clothes they think you should wear and even arrange the full outfit for each day that you go out. A roboadvisor will ask questions when you open an account to decide your investment style and then allocate investments accordingly.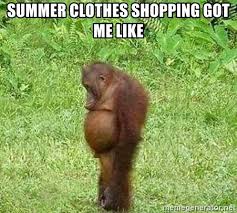 It would be impossible for me to tell you exactly what platform you should go for (in the same way I couldn't dictate where you should buy your clothes from) but by sharing my thought process and the things that were key to me, I may be able to help guide you. These are four reasons why I think a roboadvisor can be useful for a lot of us that were personal to me:
I wanted to invest my money in a way that was socially responsible – some providers create Socially Responsible Investment portfolios that are aligned with ESG (economic, social and governance) goals. These ensure that investments only go into companies that for example have good climate change policies, ensure the protection of data/privacy and have a diverse executive board. 
I didn't really want to have to check in everyday and decide what to invest in – I already have some investments that I have done a lot of research into and use another platform for them. When I have money I do not really want to have to think about allocating I can easily put it straight into my roboadvisor account and know it is diversified for me.  
I wanted an easy user experience – I like to have a mobile app so I can easily check in on and top up investments when I need to without logging onto a desktop, not all providers have this.  
I had money available to invest an initial lump sum – some roboadvisors require a minimum amount before you can sign up (Vanguard and Nutmeg are £500) whilst others like Wealthsimple have no minimum amount. 
Cool, so which one will grow my money the most?
The whole point of having a stocks and shares ISA is to get your money to grow right? The performance of the portfolios tells you how much the money within them has grown over time. Now generally when looking at performance you may want to compare it over 1,3 and 5 years and even longer (you can find figures for these on most of the platform websites). For the sake of simplicity I will just look at 2019 – which was a very good year for markets (see the table below showing data for five of the most popular UK roboadvisor platforms). Clearly, the higher the return the better. You also need to think about the fees that the different providers charge as well – from what I have seen Vanguard generally have the cheapest fees. (Vanguard is not technically a roboadvisor, but it has self managed fund allocations that you do not need to think about/mess around with, so has been included in the table for comparison.)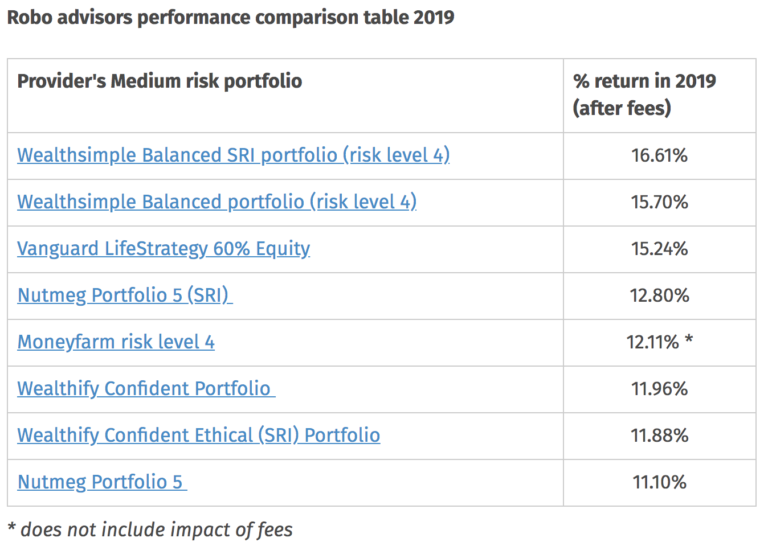 Let me know if you have any questions, there is a lot to research when it comes to choosing products like this! It would also be interesting to let me know who you decide to open an ISA with and your reasons why – good luck. Also see some links below to a couple of providers to get discounts on ISA fees.
Nutmeg: https://nutmeg.mention-me.com/m/ol/wz7yx-92f494f9e0
Wealthsimple: https://wealthsimple.com/invite/0KJPOQ
 Disclaimer: The mention of a provider is not a recommendation to invest. Please note that with investing, the values of your assets can go up as well as down. This article serves as financial guidance only and you should always do your own research.